European penetration record at Doux de Coly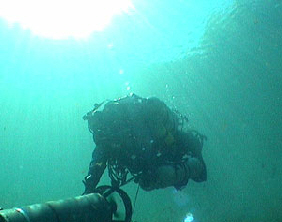 Welcome to the web page about the setting of the European cave penetration record that took place August 9th 2001 by a pan-European team of divers. All dives were directed using the DIR-philosophy developed by the Floridian cave diving team
WKPP
.

The concept of using redundant rebreathers for cave diving was originally introduced by Olivier Isler with his RI 2000.

Thank you to...

We would like to thank Olivier Isler for his previous dives and for putting the line to 4300 m.

We would also like to thank George Irvine and Jarrod Jablonski and all other members of the WKPP for sharing their experience and thoughts prior to this dive.